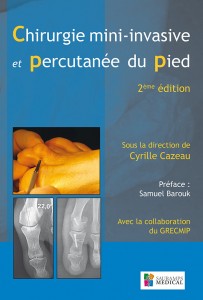 Présentation of GRECMIP
The GRECMIP (Research and Study Group for Minimally-Invasive Foot and Ankle Surgery) is composed by orthopedic surgeons. Its purpose is to study and broadcast all the minimally-invasive procedures for foot and ankle. The GRECMIP strives to evaluate and validate all the currently known techniques aiming to decrease the surgical aggressiveness (arthroscopy, forefoot percutaneous surgery, navigation, etc.).
Member and Former Responsible for communication
Dr Cyrille Cazeau is a member since 2004, and was responsible for communication from 2007 to 2015. He took part to the teaching during Basic and Advanced Courses in Bordeaux and Barcelona until 2015.
Publishing
Dr Cyrille Cazeau edited (collaborating with the GRECMIP) and authored several chapters of the reference book in French : Chirurgie Mini-invasive et Percutanée du Pied (Minimannly-Invasive and Percutaneous Foot Surgery). After the success of the 1st edition of 2009, the 2nd edition appeared in November 2015.
Links
For more information on the GRECMIP, here its website : www.grecmip.org