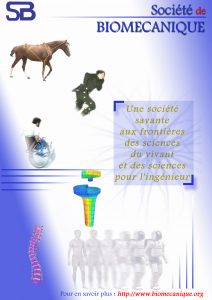 Study topics
The Society of Biomechanics is a learned society at the hinge of life sciences and of science for engineers, organised in the five following thematic clusters :
Study of the movement
Structures and materials
Fluid and transfer biomechanics
Cellular and tissue biomechanics
Rheology
Member of the Society of Biomechanics
Dr Cyrille Cazeau is holder of Master of Science (M.Sc.) of Biomechanics and Physiology of the movement. He is a member of this Society since 1996, communicated in congresses, and published articles of biomechanics in several scientific journals.
Links
For more information on the Society of Biomechanics, consult its website: www.biomecanique.org