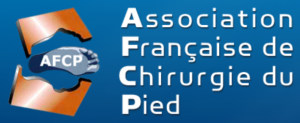 Présentation
The French Association for Foot and Ankle Surgery (AFCP) follows the Foot Study Group founded in 1993 in order to develop foot surgery in France.
It's composed by more than 200 French members, and also foreign members (Europe, Maghreb, Middle East, South America…)
Since its creation, the AFCP defends the practice of foot and ankle surgery by labelled surgeons. In this respect, the AFCP is a "child-society" of the French Society of Trauma and Orthopaedic Surgery (SOFCOT). It must be an interlocutor nearby the patients gathering information or details on the and ankle surgery (directory, information sheets…).
The AFCP contributes to the promotion and the soaring of the foot surgery in France and abroad:
through teaching, with the creation of an Inter-University Diploma for Foot Surgery in 2000. Unique in France, this teaching gathers 12 French universities.
via its regular participation to congresses and teaching lessons from the EFAS (European Foot and Ankle Society) and the IFFAS (International Federation of Foot and Ankle Societies).
Members of AFCP
Dr Cyrille Cazeau is an active member of AFCP since 2004. He communicated on the Analyse of biomechanical consequences of the gastrocnemius tightness on the forefoot, at the spring congress of AFCP in Toulouse, in June 2006. In 2009, he is named responsible for the Anthropology workshop, and communicated at the SOFCOT congress.
Dr Yves Stiglitz is a member of the "Junior's Board" of the AFCP since 2014. He is an active member since 2016. He regularly communicates to the AFCP and SOFCOT annual congresses, on subjects relating to ankle (ankle prosthesis, ankle instability…) and forefoot (hallux valgus…)
Links
For more information on the AFCP, refer to the following link: www.afcp.com.fr